A complete set of laser solutions means the selection of various laser devices and also the setting of process parameters. It requires laser solution suppliers to have a good understanding of the performance, process, and application fields of various lasers on the one hand; and on the other hand, to have professional knowledge of various laser equipment and parts and to make reasonable selections and matching for different lasers so that the designed solution can not only meet the processing requirements but also reasonably reduce the short-term and long-term production costs of customers.
Different industries have their own requirements for the effect, efficiency and cost of laser processing. In many cases, it is necessary to conduct in-depth tests on processed materials, for example, when it is not certain which laser is the best for some new or special material, it is necessary to use several lasers with different wavelengths/energy for horizontal and vertical comparison tests and to constantly optimize parameters such as power/frequency/pulse width/speed. The whole process is cumbersome and time-consuming, so most laser companies do not have such capabilities.
Since its establishment, Maiman Laser has solved more than 6,000 various problems in the manufacturing field for customers with its leading concepts, diversified lasers and optical systems and has accumulated rich industry experience through providing professional laser solutions for semiconductors, consumer electronics, automobiles, medical and other industries.
The advantages of Maiman Laser in providing laser solutions are:
From the core parameters of the laser to the selection of optical devices to the implementation of the core process, Maiman Laser provides more professional solutions
Process Experience in Many Fields
From wafer scribing and laser marking in the semiconductor industry to laser cutting and drilling in the consumer electronics field, to laser marking, cutting, and cleaning in the automotive field, Maiman Laser understands the properties of various materials and broadens the industrial horizon for your project.
Tens of Thousands of Successful Cases of Laser Micro-machining
Maiman Laser has laser application centers in many places around the world. Since its establishment 13 years ago, it has provided laser solutions for more than a thousand customers. The successful cases cover various advanced processing industries
Applied Solutions


Wavelength, pulse width, frequency, power, beam expansion, and focusing, from validation to mass production, it is quite challenging to find a suitable laser solution. Maiman Laser's expertise and experience provide you with the most suitable solutions to help you grow.
Materials Applied To


Wafer, ceramics, diamond, carbon fiber, silicon carbide, metal, plastic, whether it is cutting, marking, or drilling, Maiman laser helps you optimize the equipment structure and processing method, and import processing parameters to achieve worry-free and efficient production.
Processing Methods


Cutting, welding, marking, drilling, Maiman Laser helps you more easily realize laser processing requirements, improve the production process and achieve high throughput.
Our Service Process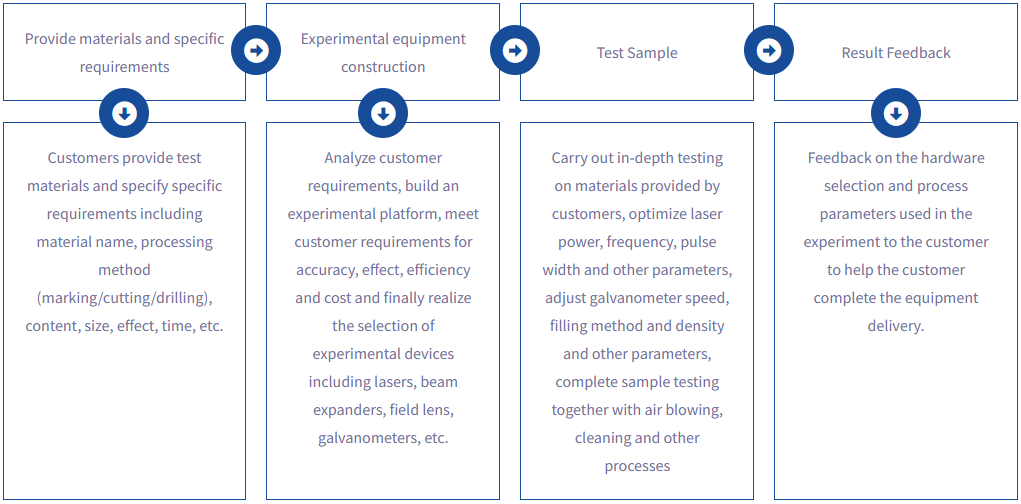 Provide materials and specific requirements
Experimental equipment construction
Customers provide test materials and specify specific requirements including material name, processing method (marking/cutting/drilling), content, size, effect, time, etc.
Analyze customer requirements, build an experimental platform, meet customer requirements for accuracy, effect, efficiency and cost and finally realize the selection of experimental devices including lasers, beam expanders, field lens, galvanometers, etc.
Carry out in-depth testing on materials provided by customers, optimize laser power, frequency, pulse width and other parameters, adjust galvanometer speed, filling method and density and other parameters, complete sample testing together with air blowing, cleaning and other processes
Feedback on the hardware selection and process parameters used in the experiment to the customer to help the customer complete the equipment delivery.
Please contact us for your specialized solution,we'll get back to you asap.